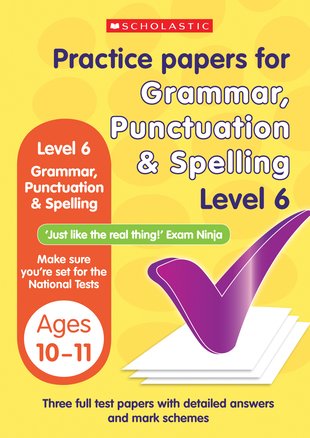 Look inside
Practice Papers for National Tests: Grammar, Punctuation and Spelling (Level 6)
Be ready to excel in National Tests. From the UK's no. 1 bestselling name in exam prep, these authentic practice papers help children achieve to the best of their ability, building their confidence and knowledge in a realistic test preview.
Created by Scholastic, whose quality products have been trusted by teachers for more than 25 years, these targeted practice papers are 100% in line with the 2014 National Tests. They are the most authentic practice papers available, identical in format to the actual test papers. Realistic practice with these papers allows children, parents and teachers to know what to expect; to preview the test format, revise and prepare answers, and pinpoint problem areas.
This pack contains three complete tests, plus mark schemes and clear guidance on what is expected.
Praise for the series from Exam Ninja:
'Take our word for it, these papers are what we have all been waiting for.'
'We were blown away by the ninja level of detail… Just like the real thing.'
'They're not just workbooks, they're full on practice papers that prepare children to near unfair levels for what they face.'